So Young Park grew up in UI-San, South Korea. At an early age she found interest in the arts and attended Pusan Art High School where she concentrated in fine art painting. At University, she stumbled upon the art medium of metal and became fascinated with its possibilities. After graduating, she decided to come to the United States to broaden her experiences in metalsmithing.
Her jewelry art forms are assembled through the harmonic use of wires, tiny discs, engraved patterns, and textures forged of gold or silver, creating elegant, yet unusual visual forms. The use of wires, small discs, textures and other small elements represent the single cells that make up all life.
Like what you see? Give us a ring! We can wrap it and ship it today.
P: 772-234-6711
The dog always wraps for free!
Give a gift from the Laughing Dog Gallery, and our signature gift-wrapping will let them know it's something spectacular before they even open the package.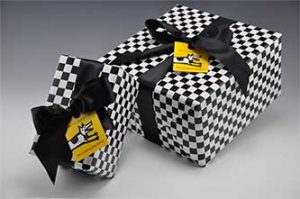 Related Artists