Daphne Olive loves jewelry that is fun, bold and easy to wear. All created in her Maryland studio, Daphne's inspiration stems from her walks in the woods near her home with her daughter, June, and her love of the simple elegance of natural forms. This influence is evident in each of her unique laser-cut stainless steel designs.
Like what you see? Give us a ring! We can wrap it and ship it today.
P: 772-234-6711
The dog always wraps for free!
Give a gift from the Laughing Dog Gallery, and our signature gift-wrapping will let them know it's something spectacular before they even open the package.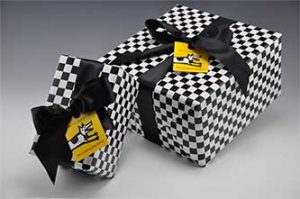 Related Artists