The influence of nature on Marjorie Victor's work is obvious, with the sculptural properties of metal being a natural medium for Marjorie to explore her unique, but effortless geometric and linear forms. Each piece is made by hand in her New York City studio, using recycled materials whenever possible, the perfect metaphor for what living and working in the heart of the most diverse city in the world brings to her work.
"My approach to jewelry design involves combining and recombining a myriad of influences, and distilling them to their simplest, most beautiful essences. This design aesthetic was developed while listening to the frenetic rhythms of New York City."
Like what you see? Give us a ring! We can wrap it and ship it today.
P: 772-234-6711
The dog always wraps for free!
Give a gift from the Laughing Dog Gallery, and our signature gift-wrapping will let them know it's something spectacular before they even open the package.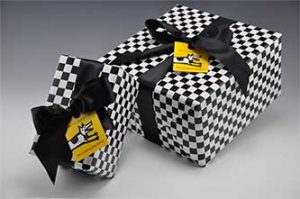 Related Artists