"Within each piece, I create an intriguing balance between jewelry and the body, and an intensity which draws others to it."
Sarah Richardson's jewelry is a process of evolving designs. Drawn to the organic quality of each individual pod, a repetition of these elements creates geometric form. Using traditional wax carving techniques, each piece is hand carved, then cast in 18K gold or sterling silver. Using heat to bring the fine metal to the surface, each piece is then polished on the edges creating an interior glow.
Like what you see? Give us a ring! We can wrap it and ship it today.
P: 772-234-6711
The dog always wraps for free!
Give a gift from the Laughing Dog Gallery, and our signature gift-wrapping will let them know it's something spectacular before they even open the package.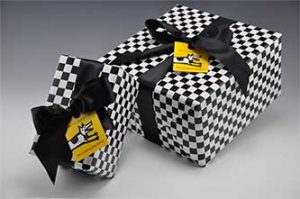 Related Artists