Emanuela was born in Rome, Italy.  Her earliest memories are of staring at the Mediterranean, terrified by the water's violence, but irresistibly drawn to its beauty.  This tension resonates in her designs to this day.
Emanuela Duca's jewelry possesses a raw, elemental beauty: primitive and sophisticated, substantial yet delicate. Her blackened sterling silver pieces, with their rugged surfaces and irregular edges, resemble small sculptural volcanoes. This rawness is accentuated with precious gemstones, diamonds in the rough, and the fire of 18 karat gold. With a fresh approach to modernism, her jewelry embraces femininity, encompassing strength as well as vulnerability.
Like what you see? Give us a ring! We can wrap it and ship it today.
P: 772-234-6711
The dog always wraps for free!
Give a gift from the Laughing Dog Gallery, and our signature gift-wrapping will let them know it's something spectacular before they even open the package.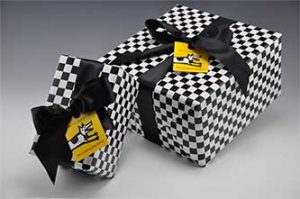 Related Artists