Shaded by the palm trees and cooled by the ocean breezes, the glassblowing studio of Rina Fehrensen and Michael Maddy is situated in north county San Diego. There, in front of the 2000 degree furnaces, they create colorful, whimsical glass pieces. Both native Californians, they take inspiration from the environment, as well as from their son, Mikey.
Like what you see? Give us a ring! We can wrap it and ship it today.
P: 772-234-6711
The dog always wraps for free!
Give a gift from the Laughing Dog Gallery, and our signature gift-wrapping will let them know it's something spectacular before they even open the package.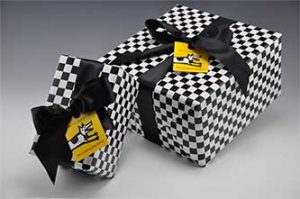 Related Artists