"With over 42 years of experience, I have developed clean, well proportioned and eloquent shapes. In particular, it is my red glass that best reflects the Carlson tradition."
Donald's work spans 5 decades and in 1966, he created one of the first private studios in the world. With years of experience, he has definitely refined the color red. He has consistently produced a rich vibrant red that is unique in color and elegant in shape. Without the use of molds his work reflects well proportioned, clean lines. Donald makes every piece himself, with his wife, Karen's assistance, and each one is signed, dated and recorded. For the discerning collector, it is rewarding to share in his progression of work.
Like what you see? Give us a ring! We can wrap it and ship it today.
P: 772-234-6711
The dog always wraps for free!
Give a gift from the Laughing Dog Gallery, and our signature gift-wrapping will let them know it's something spectacular before they even open the package.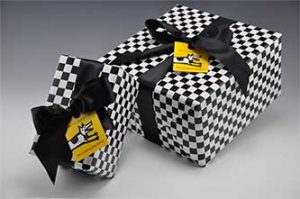 Related Artists