As a first generation Italian-American, Victor Chiarizia is influenced by a tradition and culture that embraces the handmade. Renowned for his innovative designs and use of striking colors, he explores sculptural shapes in glass using traditional Venetian and developed glassblowing techniques.
For years, Victor's work was best known for his exceptional use of incalmo, a 500-year-old Venetian technique that requires the artist to create cup-shaped vessels which are then connected to each other on the blow pipe.  Incalmo and reverse incalmo are complex and physically demanding processes, even for the most experienced glassblowers.
Like what you see? Give us a ring! We can wrap it and ship it today.
P: 772-234-6711
The dog always wraps for free!
Give a gift from the Laughing Dog Gallery, and our signature gift-wrapping will let them know it's something spectacular before they even open the package.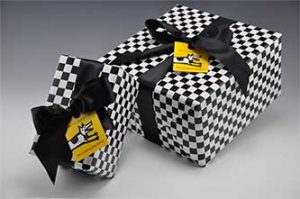 Related Artists