"Craft is at the heart of all great art, and so is intentional expression. I want anyone who sees my creations to experience the same joy and excitement that I do when exploring life's natural wonders. Expanding people's capacity for experiencing wonder in the world is the heart of my creative process." –Treg Silkwood
Together, Treg and Candace create unique, one of a kind, handcrafted glass and sculpture largely inspired by the natural world. Their mission is to create exceptional glasswork that evokes a similar sense of wonder and awe to that they have discovered on their walks along the California Coast.
Like what you see? Give us a ring! We can wrap it and ship it today.
P: 772-234-6711
The dog always wraps for free!
Give a gift from the Laughing Dog Gallery, and our signature gift-wrapping will let them know it's something spectacular before they even open the package.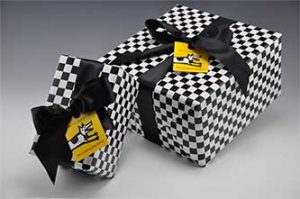 Related Artists