"Trained as a silversmith in Germany and having spent several years constructing tableware, my approach to jewelry-making is informed foremost by the European tradition of applied art. I limit myself to creating jewelry that is wearable and also, to a big degree, the materials traditionally perceived as precious. Within these limitations I am trying to develop my own language, hoping to be able to not only communicate my own sensibilities but also a sense of contemporary aesthetic."
Like what you see? Give us a ring! We can wrap it and ship it today.
P: 772-234-6711
The dog always wraps for free!
Give a gift from the Laughing Dog Gallery, and our signature gift-wrapping will let them know it's something spectacular before they even open the package.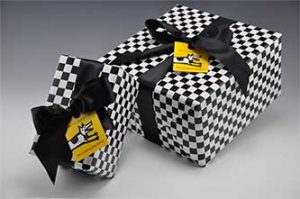 Related Artists