Jamie Joseph Jewelry has always been about the stones. Working together, Jamie and husband Jeremy convey their artistic vision by focusing on bringing light, shape, and an organic framework to some of the most beautiful stones in the world. Giving equal focus to qualities of movement, asymmetry, texture and luminosity, stones are transformed into wearable treasures with gold, silver, platinum and diamonds. Jamie has an artisan's aesthetic and her collections are renowned for meticulous craftsmanship, signature stone cutting techniques, and an abundance of color.
Like what you see? Give us a ring! We can wrap it and ship it today.
P: 772-234-6711
The dog always wraps for free!
Give a gift from the Laughing Dog Gallery, and our signature gift-wrapping will let them know it's something spectacular before they even open the package.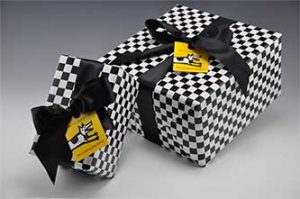 Related Artists