Sarah Graham designs powerful jewelry for everyday wear, pieces for a confident woman with personal style.  Her jewelry pushes the boundaries of convention through her use of the arresting contrasts inherent in juxtaposing 18k gold with blackened steel and black, white and cognac diamonds.  Her signature combination of black, white and gold colors immediately identify her work.  Dramatic, slightly edgy, and very sophisticated.
Like what you see? Give us a ring! We can wrap it and ship it today.
P: 772-234-6711
The dog always wraps for free!
Give a gift from the Laughing Dog Gallery, and our signature gift-wrapping will let them know it's something spectacular before they even open the package.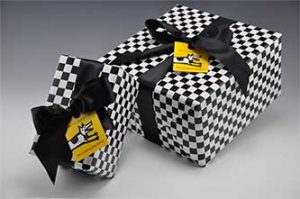 Related Artists