One of America's premier fashion jewelry designers, Patricia Locke speaks a distinctive visual language. Her timeless designs lure us with their enigmatic blend of future and tradition, fashion and fine art. The rich imagery and fine craftsmanship are designed to bring you pleasure with every wearing.
Like what you see? Give us a ring! We can wrap it and ship it today.
P: 772-234-6711
The dog always wraps for free!
Give a gift from the Laughing Dog Gallery, and our signature gift-wrapping will let them know it's something spectacular before they even open the package.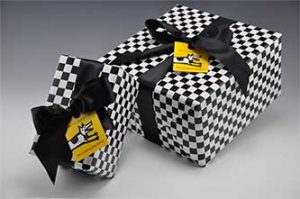 Related Artists