Barbara Heinrich is a world renowned jewelry designer. Her pieces are known for their impeccable craftsmanship, luxurious matte finishes and timeless designs. She believes that the serene beauty of her gold jewelry supports and reflects the beauty of the divine nature essential to us all.
Like what you see? Give us a ring! We can wrap it and ship it today.
P: 772-234-6711
The dog always wraps for free!
Give a gift from the Laughing Dog Gallery, and our signature gift-wrapping will let them know it's something spectacular before they even open the package.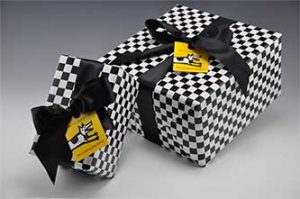 Related Artists