Michael Schunke and Josie Gluck conceive each design together, make each piece of glass by hand in their private studio. From one-of-a-kind artworks to contemporary home decor and distinctive tabletop designs, the designer makers' exceptional talent and shared dedication to the craftsmanship and quality of each finished piece is apparent in the strong consistency and subtle individuality of every glass object their hands create.
Like what you see? Give us a ring! We can wrap it and ship it today.
P: 772-234-6711
The dog always wraps for free!
Give a gift from the Laughing Dog Gallery, and our signature gift-wrapping will let them know it's something spectacular before they even open the package.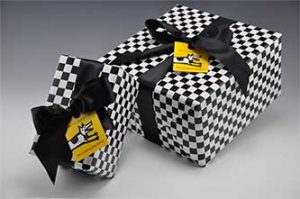 Related Artists