Gartner Blade Glass is the collaboration of Danielle Blade and Stephen Gartner.  Business partners since 1995, they combine their individual ideas, techniques and experiences to create original works in blown and sculpted glass.  Their work explores the interpretation of objects of ritual and worship, in both primitive and contemporary cultures. Their inspiration for these pieces is rooted in natural forms and their reverence for nature's resources.
Like what you see? Give us a ring! We can wrap it and ship it today.
P: 772-234-6711
The dog always wraps for free!
Give a gift from the Laughing Dog Gallery, and our signature gift-wrapping will let them know it's something spectacular before they even open the package.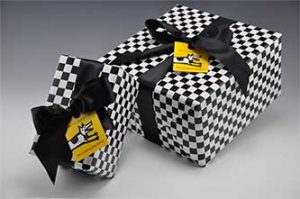 Related Artists