Robert was first introduced to glass by his older brother, Andrew.  He later studied glassblowing at the College for Creative Studies in Detroit and the University of Hawaii.  While earning his degree, he began working with his brother and helping to build and develop their studio.
Robert's primary inspiration is nature.  His signature glass sculpture series, Pohacu, meaning "rock" or "stone," is modeled after stacking stones.  Ancient Hawaiians would stack stones upon one another to create rock sculptures used as navigational instruments throughout the islands.  Robert encountered some of these organic tools while hiking and was inspired to recreate them in glass.
Like what you see? Give us a ring! We can wrap it and ship it today.
P: 772-234-6711
The dog always wraps for free!
Give a gift from the Laughing Dog Gallery, and our signature gift-wrapping will let them know it's something spectacular before they even open the package.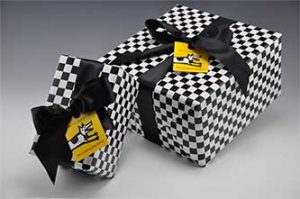 Related Artists