Richard Satava was introduced to glassblowing in 1969 while at Ocean High School in Pacifica, California. He subsequently studied art and glassblowing at the College of San Mateo and California State University, Chico.  Since establishing his own studio in 1977, he has become widely known for his exquisite vases and for his ethereal jellyfish sculptures encased in glass.  Often imitated, but never matched, Satava's glasswork is among the best, and is included in numerous public and private collections throughout the world.
Like what you see? Give us a ring! We can wrap it and ship it today.
P: 772-234-6711
The dog always wraps for free!
Give a gift from the Laughing Dog Gallery, and our signature gift-wrapping will let them know it's something spectacular before they even open the package.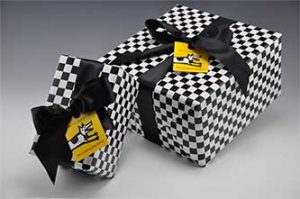 Related Artists