Award-winning artist, designer, craftsman and educator, Lynn Read has forced on glass working for more than two decades. His early pursuit in watercolor paved the way to an interest in glass because of its transparency of color, optical intrigue, malleability and material versatility. His creative spirit and passion for glass has intensified since his first apprenticeship in a glassblowing studio. A diverse artistic background ranging from painting, sculpture, woodworking, and theatrical set-building continues to play an important role in Lynn's inventive approach to glass working. Lynn has earned a highly regarded reputation for distinctly creative work that employs a wealth of techniques.
Today the studio has implemented a system to melt glass with electricity that is generated from 100% renewable energy.
Like what you see? Give us a ring! We can wrap it and ship it today.
P: 772-234-6711
The dog always wraps for free!
Give a gift from the Laughing Dog Gallery, and our signature gift-wrapping will let them know it's something spectacular before they even open the package.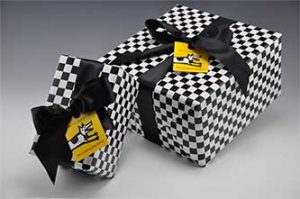 Related Artists