"Glass is often described as a super-cooled liquid, but I prefer to think of it as static motion. I try to design pieces that retain the organic character of their molten state. Using primarily transparent colors and a few well-placed stripes, my pieces highlight the material's transparency, fluidity and potential for brilliant coloration. Rather than making works that demand to be center stage, I envision my pieces as quiet assistants—subtly enhancing the environments they are placed in."
Like what you see? Give us a ring! We can wrap it and ship it today.
P: 772-234-6711
The dog always wraps for free!
Give a gift from the Laughing Dog Gallery, and our signature gift-wrapping will let them know it's something spectacular before they even open the package.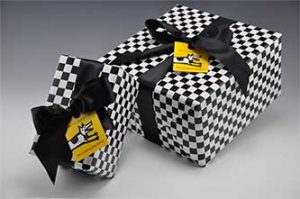 Related Artists