Peàn Doubulyu Glass, in Providence, Rhode Island, is a partnership started in 1981 by Elizabeth Pannell and James Watkins, ( p + w ) both graduates of the Rhode Island School of Design. Together, they design and produce a line of functional glassware which is expressive, fun and a joy to use. Pannell's background in graphics and painting and Watkins' interest in vessels are combined to create highly decorative glassware with bold contrasting colors and undulating, textured forms.
Like what you see? Give us a ring! We can wrap it and ship it today.
P: 772-234-6711
The dog always wraps for free!
Give a gift from the Laughing Dog Gallery, and our signature gift-wrapping will let them know it's something spectacular before they even open the package.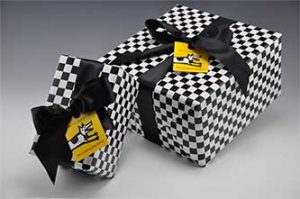 Related Artists