Anthony Lent has worked for some of the industry's most prestigious and celebrated fine jewelry houses. During this time, he developed a unique line of bespoke jewelry that has been exhibited at galleries and represented by private dealers throughout the world.
The collections are based on Lent's original sculptures, with his Celestial Collection being the most recognizable. Tony has dedicated his career to the painstaking transformation of visionary images into intricate pieces of wearable art that are among the most detailed and conceptually profound works of jewelry being made today.
Anthony Lent takes "fine jewelry" literally. Now he, along with his sons, strive to meet the highest standards of quality possible and treat attention to even the "finest" of details as the number one priority in everything they do. All of their jewelry is designed and manufactured with pride in the USA.
Like what you see? Give us a ring! We can wrap it and ship it today.
P: 772-234-6711
The dog always wraps for free!
Give a gift from the Laughing Dog Gallery, and our signature gift-wrapping will let them know it's something spectacular before they even open the package.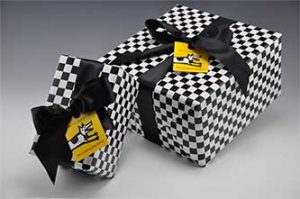 Related Artists