"I started woodworking full time in '92. I began as a woodturner making bowls, and slowly evolved into what I am doing now. I still make lots of bowls, but the work I find most interesting is the sculpture. I work with many tools: chainsaw, chisels, grinders, blowtorch, etc… I also use paints and patinas to accent and dramatize the textures and forms I make."
Like what you see? Give us a ring! We can wrap it and ship it today.
P: 772-234-6711
The dog always wraps for free!
Give a gift from the Laughing Dog Gallery, and our signature gift-wrapping will let them know it's something spectacular before they even open the package.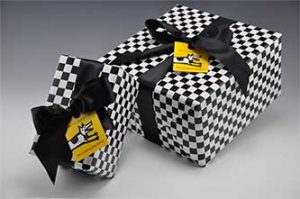 Related Artists