Woodworker Jim Shott creates colorful cabinets that explore the complex structures found in nature. Inspired by the hexagonal shapes in a honeycomb, the pattern of petals in a sunflower, or the elegant simplicity of an acorn, Shott transforms these elements into youthful, eye-catching cabinets. Each work incorporates visible, or sometimes hidden, doors and drawers; inviting you to explore what is inside.
Like what you see? Give us a ring! We can wrap it and ship it today.
P: 772-234-6711
The dog always wraps for free!
Give a gift from the Laughing Dog Gallery, and our signature gift-wrapping will let them know it's something spectacular before they even open the package.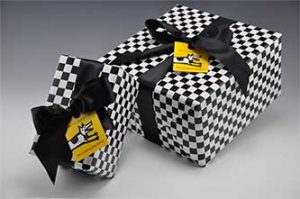 Related Artists