Elizabeth grew up in Orange County, California and is a sculptor and painter.  Her life-size mosaic "Watch Dog" sculptures caught the attention of the LA art world, and many have found homes among Hollywood celebrities.  Each dog contains at least one vintage timepiece, and often vintage jewelry and collectibles.  Choose from one of our pack, or commission your own with personal mementos from your own collection.
Like what you see? Give us a ring! We can wrap it and ship it today.
P: 772-234-6711
The dog always wraps for free!
Give a gift from the Laughing Dog Gallery, and our signature gift-wrapping will let them know it's something spectacular before they even open the package.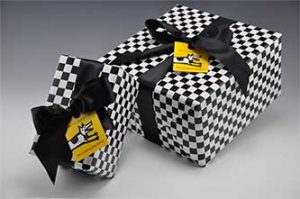 Related Artists