Since graduating with a BFA in sculpture in 1983, Paul has worked full time as a craftsman, working primarily with wood.
Over the past few years he has incorporated more metalwork, shaping and forming metal skins to fit over wooden carvings.
His other focus is on surface design, using paint, colored pencils, and textured wooden surfaces. The end result of Paul's ever changing techniques is a wonderful collection of one of a kind wall fish of every shape and size.
Like what you see? Give us a ring! We can wrap it and ship it today.
P: 772-234-6711
The dog always wraps for free!
Give a gift from the Laughing Dog Gallery, and our signature gift-wrapping will let them know it's something spectacular before they even open the package.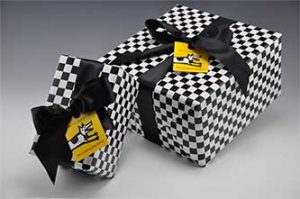 Related Artists