David Koleshis creates distinctive furniture and accessories for the home. His use of neutral and muted colors speaks to his desire for the work to blend into the existing rooms of a home. Keeping an eye on trends, David creates pieces that will fit with changing decor. The work blends the use of natural wood with a technique he developed, which is similar to faux finishing.
The design elements that most clearly distinguish David's work are the ribbed painted finish and the bird perched atop many of his pieces. The ribbed mirrors have a notch at the top in which the bird is perched. The mirrors, clocks, boxes and frames are finely crafted and will add style and sophistication to the home or office.
Like what you see? Give us a ring! We can wrap it and ship it today.
P: 772-234-6711
The dog always wraps for free!
Give a gift from the Laughing Dog Gallery, and our signature gift-wrapping will let them know it's something spectacular before they even open the package.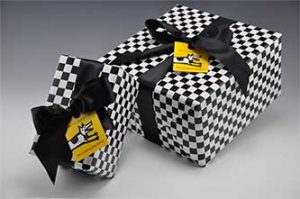 Related Artists