"I have always enjoyed working with my hands. I've done lots of different things with my hands, from set construction and painting, to sculpting clay to woodworking. There is something about working with wood that gives me the most satisfaction."
Like what you see? Give us a ring! We can wrap it and ship it today.
P: 772-234-6711
The dog always wraps for free!
Give a gift from the Laughing Dog Gallery, and our signature gift-wrapping will let them know it's something spectacular before they even open the package.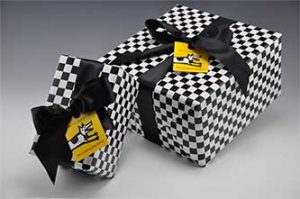 Related Artists