Sarah Grant is the lead designer and mastermind behind Sticks, a company that has evolved over the past 30 years to offer a distinctive line of wooden furniture, accessories and object art. Each piece is handcrafted and designed within the Sticks award-winning design studio in Des Moines, Iowa.
Like what you see? Give us a ring! We can wrap it and ship it today.
P: 772-234-6711
The dog always wraps for free!
Give a gift from the Laughing Dog Gallery, and our signature gift-wrapping will let them know it's something spectacular before they even open the package.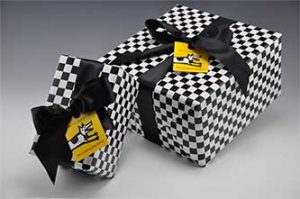 Related Artists