Amali Designer, Sara Freedenfeld, discovered her passion for making jewelry while backpacking through South America. In Valparaiso, Chile she learned to combine natural elements with knotted strings to form intricate wearable art. In Venezuela she met an artist who taught her how to link and mold metal. Drawing inspiration from the natural landscapes and vibrant textiles that colored her travels, Sara set out to create a line of jewelry that delicately unites the natural simplicity of handcrafted artistry with the sophistication and glamour of high fashion.
Like what you see? Give us a ring! We can wrap it and ship it today.
P: 772-234-6711
The dog always wraps for free!
Give a gift from the Laughing Dog Gallery, and our signature gift-wrapping will let them know it's something spectacular before they even open the package.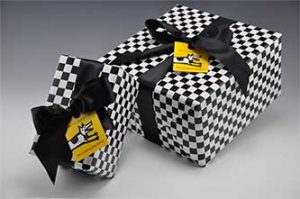 Related Artists