Holy mackerel!  Adam's glass fish sculptures are spectacular. He is captivated by the ocean, and the idea that beneath its surface, there is a whole world completely unlike the one we experience every day.  His work seeks a balance between the natural, organic environment and the man-made object.
Kaser attended Columbus College of Art & Design and studied at the prestigious Pilchuck Glass school. His fish are available as freestanding sculptures or with wall mounts.
Like what you see? Give us a ring! We can wrap it and ship it today.
P: 772-234-6711
The dog always wraps for free!
Give a gift from the Laughing Dog Gallery, and our signature gift-wrapping will let them know it's something spectacular before they even open the package.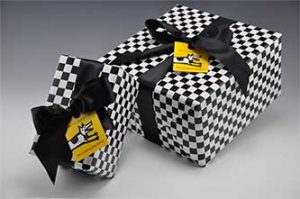 Related Artists