Glass sculptor David Wight is known as "Big Wave Dave" for the fantastic ocean waves he creates.  His stunning sculptures are inspired by the waves he's seen in his Pacific Northwest home and his travels throughout the Caribbean and Hawaiian Islands.
Wight studied at the Pilchuck Glass School under master instructor Therman Statom.  He began his artistic explorations by creating blown glass water fountains.  He soon learned he was fascinated by the water itself, and sought to recreate it in glass.  His process allows the glass to have a life of its own, expressing movement and energy in a way uncommon to traditional glassblowing.
Like what you see? Give us a ring! We can wrap it and ship it today.
P: 772-234-6711
The dog always wraps for free!
Give a gift from the Laughing Dog Gallery, and our signature gift-wrapping will let them know it's something spectacular before they even open the package.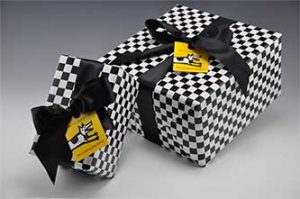 Related Artists