Dan Mirer's work is rooted in the design process. Striving to create objects that are contemporary and unique, ideas develop in a dialogue between craft and design. To realize his work, Dan uses a blend of traditional, innovative, and esoteric glassmaking techniques. Invention is often a necessity — many designs require custom tools and processes. While Dan sees beauty in an efficient production, he takes pride in personally making each piece himself from start to finish.
Like what you see? Give us a ring! We can wrap it and ship it today.
P: 772-234-6711
The dog always wraps for free!
Give a gift from the Laughing Dog Gallery, and our signature gift-wrapping will let them know it's something spectacular before they even open the package.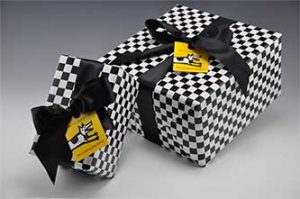 Related Artists