Optic Series Sculptures
Wes Hunting has been working with glass for over 30 years, first developing the "Colorfield Series" in 1984. In the "Optical Series", Hunting creates an abstract assemblage of colorful murrini swirls and bursts, like fireworks within a slab of crystal clear glass. Hunting uses various Italian techniques, such as milifiori and zanfirico, and includes decorative techniques personally developed and refined over time. While the forms have changed over the years, they have always remained simple, with the intention that they never distract from the increasing complexities of the surface decoration.
Like what you see? Give us a ring! We can wrap it and ship it today.
P: 772-234-6711
The dog always wraps for free!
Give a gift from the Laughing Dog Gallery, and our signature gift-wrapping will let them know it's something spectacular before they even open the package.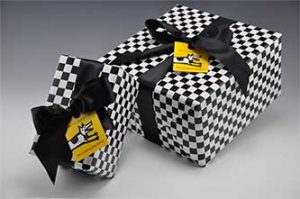 Related Artists