Melanie's career in glassblowing has been marked by a continual exploration inspired by nature. The intricacies of the natural world are the subject of her blown and solid glass forms.
In his Safari Series, David creates a unique variation of the classic Italian encalmo technique, in which the artist joins two very distinctly different patterns and surfaces together. A very dense bold top gives way to a softened base of ambers and golds that play joyfully with the light coming through. Leppla has been blowing glass for over 25 years, and he incorporates multiple traditional glass techniques into the creation of each piece.
Like what you see? Give us a ring! We can wrap it and ship it today.
P: 772-234-6711
The dog always wraps for free!
Give a gift from the Laughing Dog Gallery, and our signature gift-wrapping will let them know it's something spectacular before they even open the package.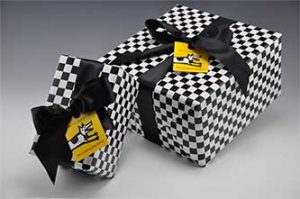 Related Artists