Eleven Seventy-Eight Designs started in 1978 when Jean Luc Comperat and Minouche Waring merged their experiences and began designing fused glass and stained glass decorative objects.
Prior to their collaboration, Jean Luc graduated in 1977 as an architect from L'Ecole Nationale Superieure des Beaux Arts de Paris, France, and Minouche had been working for advertising agencies designing sets for print and TV commercials.
Their "non-formal" craft training and their free spirit allowed them to define their own style.
Like what you see? Give us a ring! We can wrap it and ship it today.
P: 772-234-6711
The dog always wraps for free!
Give a gift from the Laughing Dog Gallery, and our signature gift-wrapping will let them know it's something spectacular before they even open the package.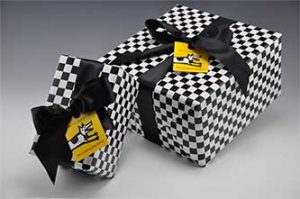 Related Artists