"We are often too absorbed by the day-to-day of our own existence to visualize and recognize the grand scheme that is transpiring around us. My aim is to celebrate the beauty of the progression of life as it unfolds and reveals itself."
Robert Dane's work revolves around the themes of life and growth. Inspired and informed by the apparent beauty of nature, he recognizes his dependence on it and tries to nurture an optimism within himself and his work in exchange. His studio in the Berkshires provides a spectacular view of Mount Greylock and is a constant source of inspiration.
He manipulates glass into sculptural forms with a variety of techniques, including blowing and hot-working solid glass.
Like what you see? Give us a ring! We can wrap it and ship it today.
P: 772-234-6711
The dog always wraps for free!
Give a gift from the Laughing Dog Gallery, and our signature gift-wrapping will let them know it's something spectacular before they even open the package.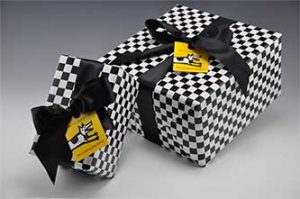 Related Artists