Stephen and Karen have been working in clay for over 32 years. Both studied ceramics in college, Stephen at the University of Northern Iowa, and Karen at Drake University.
They share their Iowa studio with four cats and a border collie (who keeps them busy throwing tennis balls).
Like what you see? Give us a ring! We can wrap it and ship it today.
P: 772-234-6711
The dog always wraps for free!
Give a gift from the Laughing Dog Gallery, and our signature gift-wrapping will let them know it's something spectacular before they even open the package.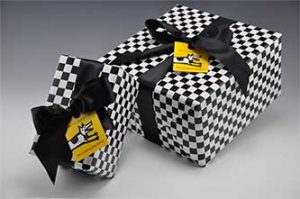 Related Artists