My current work is stoneware with inlays of black and white stoneware. Additions to the raw surface can include slips, underglaze and high-temperature wire. Post firing additions can include acrylic paint, oil paint, cold wax and metal leaf.
I am influence by minimalist art and design and the long traditions of Asian pottery and British studio ceramics.
I work in sets. Sometimes I work with the idea os a group from the moment I pull our my clay in the morning. Other times individual pieces become a group as I consider the balance and relationship of one component to another.
Like what you see? Give us a ring! We can wrap it and ship it today.
P: 772-234-6711
The dog always wraps for free!
Give a gift from the Laughing Dog Gallery, and our signature gift-wrapping will let them know it's something spectacular before they even open the package.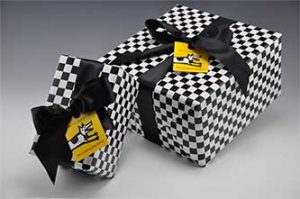 Related Artists