Mixed media artist Carol Green creates sculptural vessels that have a distinctly organic, yet modern, aesthetic, formed in both clay and metals. On Green's gourd vessels, the addition of branches and vines cast in bronze transform the jars into modern artifacts.
"The body of my work reaffirms the artist's historical role as a maker of objects for utility, pleasure and symbolic meaning."
Like what you see? Give us a ring! We can wrap it and ship it today.
P: 772-234-6711
The dog always wraps for free!
Give a gift from the Laughing Dog Gallery, and our signature gift-wrapping will let them know it's something spectacular before they even open the package.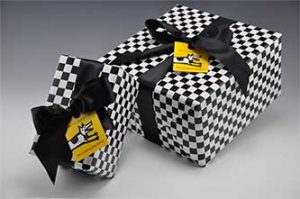 Related Artists