Anchor Bend Glassworks is an award-winning artist collaborative comprised of childhood friends Michael Richardson, Justin Tarducci and Timothy Underwood.  Since its establishment in 2003, Anchor Bend has developed a wide range of creative and approachable handblown glass products. The talents of each individual artist work to encourage and develop the group as a whole, resulting in an ever-expanding and creative body of work.
Like what you see? Give us a ring! We can wrap it and ship it today.
P: 772-234-6711
The dog always wraps for free!
Give a gift from the Laughing Dog Gallery, and our signature gift-wrapping will let them know it's something spectacular before they even open the package.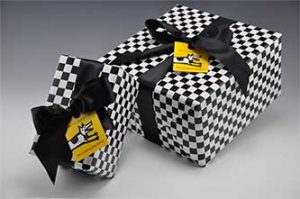 Related Artists