David and Jennifer Clancy strive to combine beauty and function. Their goal is to fuse the inspirational with the practical, resulting in useful artworks that serve the everyday. Their juice glasses, pitchers, and stemware are beautiful to look at, and even more fun to use.
Like what you see? Give us a ring! We can wrap it and ship it today.
P: 772-234-6711
The dog always wraps for free!
Give a gift from the Laughing Dog Gallery, and our signature gift-wrapping will let them know it's something spectacular before they even open the package.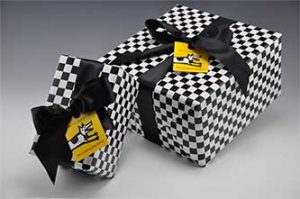 Related Artists