"I work in blown glass, constantly seeking both beauty and functionality. I believe that the objects we surround ourselves with should engage our affection and elevate our collective identity.  By making durable and precious objects, we enrich ourselves and ensuing generations."
Minh uses traditional tools and techniques to create his elegant glass stemware, often incorporating precious metals like silver and titanium to create his signature look.
Like what you see? Give us a ring! We can wrap it and ship it today.
P: 772-234-6711
The dog always wraps for free!
Give a gift from the Laughing Dog Gallery, and our signature gift-wrapping will let them know it's something spectacular before they even open the package.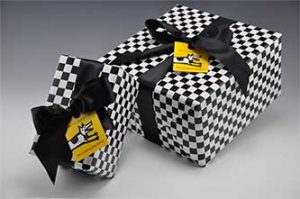 Related Artists