"I think of these tall vessels as figures. As such, I am interested in their personalities, and how they relate to one another."
Michael Bauermeister's vessels are made from cabinet grade hardwoods and are lacquered to prevent warping and cracking. Surface decoration varies from scratching and carving to applied prints and steins.
Like what you see? Give us a ring! We can wrap it and ship it today.
P: 772-234-6711
The dog always wraps for free!
Give a gift from the Laughing Dog Gallery, and our signature gift-wrapping will let them know it's something spectacular before they even open the package.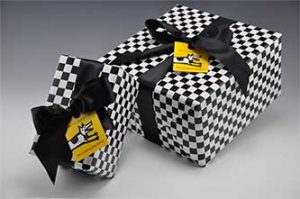 Related Artists