Kenny Pieper is a glassblower producing an exquisite line of glass vessels and sculpture in North Carolina. His series of cane goblets are exuberant and playful. Employing traditional cane techniques, Pieper creates geometric intricacies in an array of colors. The goblets are elegant, cheerful and would enliven any celebration.
Like what you see? Give us a ring! We can wrap it and ship it today.
P: 772-234-6711
The dog always wraps for free!
Give a gift from the Laughing Dog Gallery, and our signature gift-wrapping will let them know it's something spectacular before they even open the package.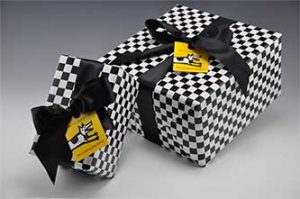 Related Artists