Ed Wohl's work is known for its masterful design, seamless joinery and liquid-smooth finish. He has designed and now creates an extensive line of bird's-eye maple cutting boards.
"I make things of wood that I'd like to have myself: functional pieces that are quiet, peaceful, and a pleasure to touch and look at. My approach emphasizes select materials, structural integrity and utility. I like to let the wood do the work– to coax nature to imitate art."
Like what you see? Give us a ring! We can wrap it and ship it today.
P: 772-234-6711
The dog always wraps for free!
Give a gift from the Laughing Dog Gallery, and our signature gift-wrapping will let them know it's something spectacular before they even open the package.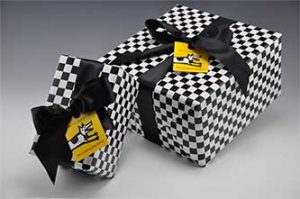 Related Artists