"A finished piece represents a discovery of beautiful forms and colors, displaying some of the magic of hot glass, nature, and skillful, creative teamwork."
Since 1982, glass has had a constant presence in Ed Branson's life. His relationship to his work has been enhanced and explored with some of the world's glass masters, but predominantly, his knowledge of the "magic material" is built on a day-to-day practice in his studio. That path has led Branson to a fairly simple artistic approach: trust the glass, have fun, accept mistakes, study nature and search for beauty forms and colors inherent in each piece he makes.
Like what you see? Give us a ring! We can wrap it and ship it today.
P: 772-234-6711
The dog always wraps for free!
Give a gift from the Laughing Dog Gallery, and our signature gift-wrapping will let them know it's something spectacular before they even open the package.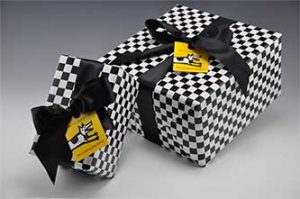 Related Artists