"Creating glass art is an immediate, creative and challenging experience where I use my vision and technical skills to create fine art."

Mike Wallace studied glass blowing at the Corning Museum of Glass and then at the Toledo Museum of Art where he completed several years of independent study. In 2001 he began to pursue glass art as a full-time career. Currently he works out of his own studio which, as part of a series of "back in time" attractions, also includes blacksmith and carpentry shops.
Like what you see? Give us a ring! We can wrap it and ship it today.
P: 772-234-6711
The dog always wraps for free!
Give a gift from the Laughing Dog Gallery, and our signature gift-wrapping will let them know it's something spectacular before they even open the package.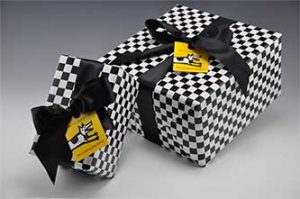 Related Artists