"I am strongly influenced by forms in nature, the human body and by the imagery of cell structure and DNA. Combine this with the Asian influence, Feng Shui, the acceptance and fascination of energy and its interactive dance as the spirit–these are the elements and ideas which I incorporate into each piece.
My blown forms are fluid, sculptural and timeless. My laticino vessels are an intricate process of blowing, pulling and twisting glass rods or canes with multiple colors entwined. The canes are then joined and shaped into their desired form, resulting in an exquisite depth and luminescence."
Like what you see? Give us a ring! We can wrap it and ship it today.
P: 772-234-6711
The dog always wraps for free!
Give a gift from the Laughing Dog Gallery, and our signature gift-wrapping will let them know it's something spectacular before they even open the package.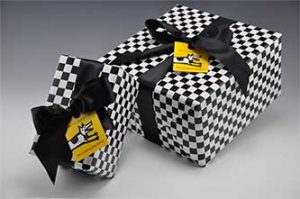 Related Artists