Craig re-creates what he sees by combining repurposed objects from industry. Each assemblage is crafted principally from mechanical objects that combine to form whimsical creatures. Sometimes frightening but always funny, they appear to have self-created with their own unique personality.
"I'm happy when my art makes people smile, when they look closely they even laugh!"
Like what you see? Give us a ring! We can wrap it and ship it today.
P: 772-234-6711
The dog always wraps for free!
Give a gift from the Laughing Dog Gallery, and our signature gift-wrapping will let them know it's something spectacular before they even open the package.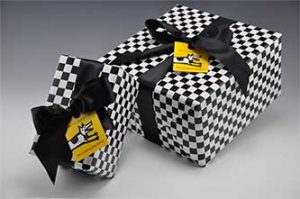 Related Artists